Meet a Greeter
 Alexandre Clair
Born and raised in Béziers, Alexandre will tell you everything about his city that he describes as a fallen capital with strong character.
He will offer you to discover Béziers with different angles and points of view : history, urbanism, everyday life, nature, heritage or even thanks to literature or the visit of a neighborhood, but above all according to what YOU wish to see !
"Béziers is not a city that offers itself immediately to the visitors, you have to "deserve" it, but with some time, and a little bit of walking, you will learn about the richness of the monuments, the spirit and character of the city".
Through a sincere and authentically "Biterrois" exchange you will leave with a different eye on this ancient Mediterranean town and will let yourself be surprised to want to come back.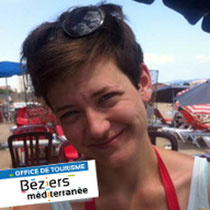 Camille Olivier
Camille loves being outisde, and most of all being outisde for a hike, a run, or a ride! Come and discover unexpected paths around Valras-Plage, Sérignan and the Canal du Midi, you will spend a peaceful moment in a quiet and natural environment !
Camille can take you for a walk from Valras-Plage to Sérignan, a hike along the Canal du Midi, or take a bicycle and follow her from the beach to the Canal! Breath! Summer is here!!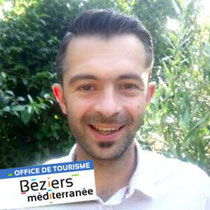 Camille Morata
Native of Béziers, Camille is passionate about History, but also is a sport addict : marathon, football or rugby, as well as many other sports.
He will offer you to discover and appreciate Béziers, its culture and its heritage.
If you love sports as much as he does : he will take you to visit the major sites, but running rather than walking !
Diane Gimenez
This young local artist wants to reawaken the traditional architectural visits. From the Tourist Office to the Place des Trois Six, walking through Place de Gaulle, having a look at the Paul Riquet junior high school decorated by Jean Antonin Injalbert, follow Diane for an hour and look up, you will discover wonders.
Jean Lauze
Freshly retired, Jean was the manager of a mecanics company. His family has always lived in Béziers and Jean just loves his city.
He will take you through the town and its history in a friendly and sporty way, and will adapt the visit to your request.
More precisely, Jean a ride on a bike or a walk from the Quai Port Neuf or the 9 Locks on the steps of Paul Riquet, a commented walk in the Poets' garden, up the Allées Paul Riquet, through the Place du Forum, the St Nazaire Cathedral, the  Place Canterelle, St Jacques neighborhood and by the Old Bridge.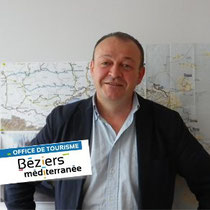 Laurent Baccou
Chief of the Transportation service of Béziers metropolitan area, Laurent nevertheless know how to use his feet! He will take you, running or on a bike, through a 2 hours tour of our best places of interest. Place Canterellette, the Canalet, and the 9 locks won't be any secret anymore! Grab some shoes and follow him!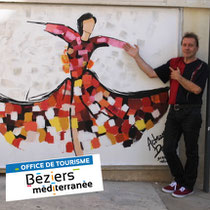 Gilles Lecordier

Gilles will take you for a walk in the streets of Béziers, following the steps of the great men who were born, lived and created amazing things in Béziers. He will tell you about the Cathars history, about the famous WW2 resistant Jean Moulin, and Pierre-Paul Riquet the creator of the Canal du Midi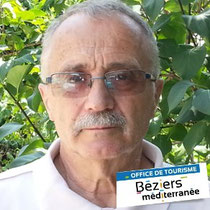 Denis Taillade
Newly retired Denis Taillade from Valras-plage is very active, fond of History and travel, and will allow you to discover and be amazed by this unique and charming seaside resort :
- the old chalets, the fisherman houses, the covent market, the port and the fine sand beach on the right bank
- the protected site of the Orpellieres, a nature reserve for the flora and fauna of saline soils on the unspoiled left bank.
- the mouth of the Orb river and the maritime heritage.
The visit is also an opportunity to exchange with the locals.
Nawel Khoulafa
This young and dynamic shopkeeper, in love with her city, will reveal to you all her secrets about Béziers. 
She will take you to the best shopping places, help you discover antic-shops and their treasures, and downtown typical restaurants.
Nawel will also suggest perfect places to party !

Meet Nawel downtown !